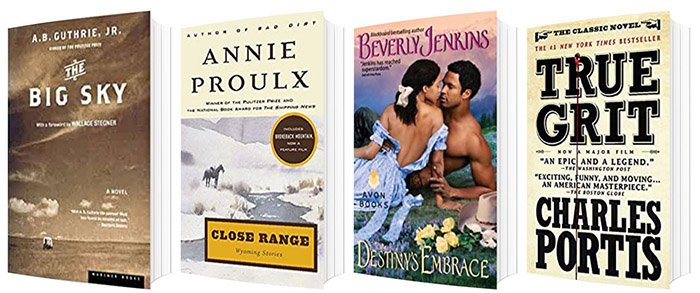 The Full List of the Best Western Books
Here is the full list of Western Books, a genre primarily set in the American Old West, exploring the American frontier and Wild West through its complex characters and depictions of wilderness.
A genre that reached its peak popularity during the early to mid-20th century, Westerns are as compelling as any literary fiction in book form.
What is a Western Book?
Typically set in the 19th century, Western books often capture the spirit of adventure, freedom, and closeness to nature, with brave and self-reliant protagonists portrayed as a cowboy, mountain man, town marshall, or an outlaw of the American Old West. They also feature revenge quests, blood-soaked fight for justice, and tensions played out against a prairie backdrop, mountain ranges, and vast plains, a recurring theme that makes Western fiction recognizable against other literary genres.
The first few Western novels may have started in the early 1800s, but as the century advanced, straight-shooting Western authors emerged in the 1900s and made the genre achieve a new level of fame. Written by authors who worked as cowboys or have lived the American frontier life in the Great Plains or the Southwest, Western novels captivated the audience through their detailed stories where complex characters live in a society where nature and outlaws conquer the world.
One of the well-renowned Western authors was Owen Wister, who wrote the first western that won critical praise, "The Virginian," in 1902. Another prolific writer was Zane Grey, who found fame in his classic writing, "Riders of the Purple Sage," in 1912 and have shown his devotion for Western fiction by writing more than 50 novels throughout his life. Louis L'Amour also helped spread interest in frontier stories, recognized as one of the world's most renowned writers and bestselling authors in the Western fiction genre.
While Western books are no longer quite as common as they were before, they continue to stay relevant in the field of literature, a resilient genre that pops up every so often. Many of these novels remain available for fans and newcomers to read, keeping the Western fiction genre alive and well.
The Best Western Booklist & Summary
Here is the full list of the Best Western Books along with a short summary:
Best Western Books # 1) Lonesome Dove: A Novel
Book Summary: The Pulitzer Prize­–winning American classic of the American West that follows two aging Texas Rangers embarking on one last adventure. An epic of the frontier, Lonesome Dove is the grandest novel ever written about the last defiant wilderness of America.Journey to the dusty little Texas town of Lonesome Dove and meet an unforgettable assortment of heroes and outlaws, whores and ladies, Indians and settlers. Richly authentic, beautifully written, always dramatic, Lonesome Dove is a book to make us laugh, weep, dream, and remember.
A 5-Star Review: I am not used to reading 1000-page books. And, I have only read a handful of western novels. But, I have read many thousands of books in my life and quite a few novels along the way. Lonesome Dove outdoes them all for threading lives and stories together, making characters and incidents real, keeping the narrative going and making the reader want more and more and more. My hat goes off to the author Larry McMurtry. He has the gift and Lonesome Dove stands tall with the best novels written by the greatest writers of the centuries.
A Critical Review: I wish I had read the reviews before deciding for once in my life to read a preface. I have heard how wonderful this book is. Being a fan of Gone With The Wind, I needed another saga to fill the void. But the preface basically gave away the entire effing story and the magic is lost. Out of spite for the author, I have put off actually reading it. Every time I try, I can't get past the fact that I already know the ending.
Best Western Books # 2) Blood Meridian: Or the Evening Redness in the West (Vintage International)
Book Summary: "The fulfilled renown of Moby-Dick and of As I Lay Dying is augmented by Blood Meridian, since Cormac McCarthy is the worthy disciple both of Melville and Faulkner," writes esteemed literary scholar Harold Bloom in his Introduction to the Modern Library edition. "I venture that no other living American novelist, not even Pynchon, has given us a book as strong and memorable."Cormac McCarthy's masterwork, Blood Meridian, chronicles the brutal world of the Texas-Mexico borderlands in the mid-nineteenth century. Its wounded hero, the teenage Kid, must confront the extraordinary violence of the Glanton gang, a murderous cadre on an official mission to scalp Indians and sell those scalps. Loosely based on fact, the novel represents a genius vision of the historical West, one so fiercely realized that since its initial publication in 1985 the canon of American literature has welcomed Blood Meridian to its shelf. "A classic American novel of regeneration through violence," declares Michael Herr. "McCarthy can only be compared to our greatest writers."
A 5-Star Review: It is a powerful book, beautifully written. It captures the splendor, violence and mystery of the Western landscape. It language is almost biblical in its weight. Like much great art, its themes are nuanced, opaque and complex; I have read the book a half dozen times and new meanings and interpretations suggest themselves. It engenders further questions than answers in its reading, but it compels its reading, again and again.
A Critical Review: It is still, of course, largely the same book. I got through a few chapters before I could no longer listen. They dropped passages they deemed irrelevant that established themes and fleshed out the picture the author paints. It is like listening to a screen-play of the book chopped down to simplify it.
Really disappointed. Unabridged or not at all is the way to go with this.
Best Western Books # 3) Little House on the Prairie (Annotated)
Book Summary: A family travels from the big woods of Wisconsin to a new home on the prairie, where they build a house, meet neighboring Indians, build a well, and fight a fire. Includes a detailed account of how the novel was written and published. Based on the real adventures of Laura Ingalls Wilder, Little House on the Prairie is the second book in the award-winning Little House series.Quotes from the book:"There's no great loss without some small gain.""Ma sighed gently and said, 'A whole year gone, Charles.' But Pa answered, cheerfully: 'What's a year amount to? We have all the time there is.'""Everything from the little house was in the wagon except the beds and tables and chairs. They did not need to take these, because Pa could always make new ones."Readers' reviews:"Finally, after spending part of my childhood watching Laura Ingalls Wilder's exciting experiences on TV I made up my mind to read this book out of the long series of the Little House books." (Lucia, goodreads.com)"What I love about these books is that Wilder doesn't completely sugarcoat life in the mid-to-late 1800s. There is plenty of hard work, danger and disappointment. The family endures many hardships including flood, fire, wild animals, disease and weather. But this is a strong family unit. Ma and Pa are steadfast, competent, hard-working, and protect their children as best they can." (Book Concierge, goodreads.com)"I read this book when I was six years old, and then over and over again until I was about ten. I loved it. It inspired my imagination like nothing else until Harry Potter more than thirty years later. For years, I wanted to BE Laura Ingalls Wilder. I loved when the grass grew long and I could pretend it was the prairie." (Michele, goodreads.com)
A 5-Star Review: Such a great classic book and series. Having a lot of fun reading this series to my daughter one chapter per night at bedtime. She is only 5 and has a million questions and it really grabs her attention. Their life is so different than ours that it sparks some very interesting conversations. Definitely recommend as a family or class read aloud book.
A Critical Review: I was disappointed in the color edition of Little House on the Prairie. It was too small, the coated pages were unpleasant to the touch, and the color obscured the lovely black and white drawings.
Best Western Books # 4) True Grit: A Novel
Book Summary: The #1 New York Times bestselling classic frontier adventure novel that inspired two award-winning films! Charles Portis has long been acclaimed as one of America's foremost writers. True Grit, his most famous novel, was first published in 1968, and became the basis for two movies, the 1969 classic starring John Wayne and, in 2010, a new version starring Academy Award® winner Jeff Bridges and written and directed by the Coen brothers. True Grit tells the story of Mattie Ross, who is just fourteen when the coward Tom Chaney shoots her father down in Fort Smith, Arkansas, and robs him of his life, his horse, and $150 in cash. Mattie leaves home to avenge her father's blood. With one-eyed Rooster Cogburn, the meanest available U.S. Marshal, by her side, Mattie pursues the killer into Indian Territory. True Grit is eccentric, cool, straight, and unflinching, like Mattie herself. From a writer of true status, this is an American classic through and through.
A 5-Star Review: When a hired hand kills and robs her father, 14-year-old Mattie is determined to bring him to justice and hires the toughest US Marshall in the area…..Rooster Cogburn, a man with a reputation for justice at the point of a gun and the True Grit attitude Mattie knows is essential to bring this murdering scum, Chaney, to justice. The chase soon includes a Texas Ranger and an outlaw gang as trouble moves into the Indian territories. An outstanding story, made into an excellent theatrical release, and well worth the time to read or view.
A Critical Review: I typically like westerns. Not sure why, but this one didn't do it for me. Maybe it was the writing style? I'm not sure. I didn't enjoy this book at all. I have it 2 stars. The story itself is decent but could not get past the writing style. It was hard for me to get into the book.
Best Western Books # 5) The Big Sky
Book Summary: A classic portrait of America's vast frontier that inspired the Western genre in fiction.
Originally published more than fifty years ago, The Big Sky is the first of A. B. Guthrie Jr.'s epic adventure novels set in the American West. Here he introduces Boone Caudill, Jim Deakins, and Dick Summers: traveling the Missouri River from St. Louis to the Rockies, these frontiersmen live as trappers, traders, guides, and explorers. The story centers on Caudill, a young Kentuckian driven by a raging hunger for life and a longing for the blue sky and brown earth of big, wild places. Caught up in the freedom and savagery of the wilderness, Caudill becomes an untamed mountain man, whom only the beautiful daughter of a Blackfoot chief dares to love.
A 5-Star Review: I recommend this book to anyone who likes westerns and especially those who want more plot and story than a shoot-em-up. May be the best western ever–right up there!
A Critical Review: This is one of the rare instances where the movie is better than the book. Book is hard to read. It is written usings words that were used in this period. Hard to understand. Also the book starts and stops periods of time without explanation. In one instance, on same page, the main character are trapping and you learn it's 7 years later. Movie is very good, book not so much.
Best Western Books # 6) The Ox-Bow Incident (Modern Library Classics)
Book Summary: Set in 1885, The Ox-Bow Incident is a searing and realistic portrait of frontier life and mob violence in the American West. First published in 1940, it focuses on the lynching of three innocent men and the tragedy that ensues when law and order are abandoned. The result is an emotionally powerful, vivid, and unforgettable re-creation of the Western novel, which Clark transmuted into a universal story about good and evil, individual and community, justice and human nature. As Wallace Stegner writes, [Clark's] theme was civilization, and he recorded, indelibly, its first steps in a new country.
A 5-Star Review: Just an all-time "all-timer" among American classics. Crazy this great novel has subsided into relative obscurity. It's captivating, important, timelessly current. Van Tilberg Clark was one brilliant writer.
A Critical Review: I'm sorry, I just found this book just a bit short of silly. And I am a western fan. The character development was shallow and the story line predictible while at the same time unrealistic. If you want a book on philosophy there are ones that are much better.
Best Western Books # 7) News of the World: A Novel
Book Summary: In the aftermath of the Civil War, an aging itinerant news reader agrees to transport a young captive of the Kiowa back to her people in this exquisitely rendered, morally complex, multilayered novel of historical fiction from the author of Enemy Women that explores the boundaries of family, responsibility, honor, and trust.
In the wake of the Civil War, Captain Jefferson Kyle Kidd travels through northern Texas, giving live readings from newspapers to paying audiences hungry for news of the world. An elderly widower who has lived through three wars and fought in two of them, the captain enjoys his rootless, solitary existence.
In Wichita Falls, he is offered a $50 gold piece to deliver a young orphan to her relatives in San Antonio. Four years earlier, a band of Kiowa raiders killed Johanna's parents and sister; sparing the little girl, they raised her as one of their own. Recently rescued by the U.S. army, the ten-year-old has once again been torn away from the only home she knows.
Their 400-mile journey south through unsettled territory and unforgiving terrain proves difficult and at times dangerous. Johanna has forgotten the English language, tries to escape at every opportunity, throws away her shoes, and refuses to act "civilized." Yet as the miles pass, the two lonely survivors tentatively begin to trust each other, forming a bond that marks the difference between life and death in this treacherous land.
Arriving in San Antonio, the reunion is neither happy nor welcome. The captain must hand Johanna over to an aunt and uncle she does not remember—strangers who regard her as an unwanted burden. A respectable man, Captain Kidd is faced with a terrible choice: abandon the girl to her fate or become—in the eyes of the law—a kidnapper himself.
A 5-Star Review: This book was a joy to read, and I hated for it to end. Jiles writing harkens back to an era of simpler, yet dangerous times of upheaval and political unrest. A forgotten way of life, a forgotten people, poised at the edge of the frontier, between the modern world rushing hellbent towards them, and an older, more primitive, yet somehow more elegant, refined, and romantic lifestyle, slowly slipping out of their grasp and into the shadows of memory. Like a dream upon waking. It will make you laugh, and make you cry, and make you long for more of the same!
A Critical Review: This is an interesting story, and the absence of quotation marks are not apparent in an audio version, but their absence in our Kindle version makes it a confusing and disjointed read. The author also seems to have an aversion to using complete sentences. I admit to being something of a pedant when it comes to grammatical correctness, making this a particularly disconcerting read.
Best Western Books # 8) Appaloosa (Virgil Cole & Everett Hitch Book 1)
Book Summary: When Virgil Cole and Everett Hitch arrive in Appaloosa, they find a town suffering at the hands of a renegade rancher who's already left the city marshal and one of his deputies dead. Cole and Hitch are used to cleaning up after scavengers, but this one raises the stakes by playing not with the rules—but with emotion.Watch a QuickTime trailer for this book.
A 5-Star Review: Appaloosa was the first book in the Hitch and Cole series by Robert Parker. They are so good, but I read them out of order. I bought Appaloosa and will reread the entire series in order now! (I just finished book 4). The books are fast reads. I love the characters and what they believe in and stand for–"The Rules". You'll be hooked after the first book, Appaloosa!
A Critical Review: Very slow moving and predictable story. He made it an adult story by inserting some unnecessary bad language and mild sex scenes. I wouldn't care to read another book from this series.
Best Western Books # 9) Sackett's Land: A Novel
Book Summary: After discovering six gold Roman coins buried in the mud of the Devil's Dyke, Barnabas Sackett enthusiastically invests in goods that he will offer for trade in America. But Sackett has a powerful enemy: Rupert Genester, nephew of an earl, wants him dead. A battlefield promise made to Sackett's father threatens Genester's inheritance. So on the eve of his departure for America, Sackett is attacked and thrown into the hold of a pirate ship. Genester's orders are for him to disappear into the waters of the Atlantic. But after managing to escape, Sackett makes his way to the Carolina coast. He sees in the raw, abundant land the promise of a bright future. But before that dream can be realized, he must first return to England and discover the secret of his father's legacy.
A 5-Star Review: This book and this series (Sacketts) made me a Louis L'Amour fan over three decades ago and now I am easily reaffirming my passion for his writing by revisiting the entire series. If this first book doesn't shanghai you into the the entire series I would like to know how and why it didn't because it will shock me to no end. Read on!
A Critical Review: The author seems to make up the plot as he goes along. The hero jumps into impossible situations, then out of nowhere comes Captain T to the rescue.
I will not read more stories in this series.
Best Western Books # 10) Close Range: Wyoming Stories
Book Summary: From the Pulitzer Prize–winning and bestselling author of The Shipping News and Accordion Crimes comes one of the most celebrated short story collections of our time.Annie Proulx's masterful language and fierce love of Wyoming are evident in this collection of stories about loneliness, quick violence, and wrong kinds of love. In "The Mud Below," a rodeo rider's obsession marks the deepening fissures between his family life and self-imposed isolation. In "The Half-Skinned Steer," an elderly fool drives west to the ranch he grew up on for his brother's funeral, and dies a mile from home. In "Brokeback Mountain," the difficult affair between two cowboys survives everything but the world's violent intolerance. These are stories of desperation, hard times, and unlikely elation, set in a landscape both brutal and magnificent. Enlivened by folk tales, flights of fancy, and details of ranch and rural work, they juxtapose Wyoming's traditional character and attitudes—confrontation of tough problems, prejudice, persistence in the face of difficulty—with the more benign values of the new west. Stories in Close Range have appeared in The New Yorker, The Atlantic Monthly, Harper's, and GQ. They have been selected for the O. Henry Stories 1998 and The Best American Short Stories of the Century and have won the National Magazine Award for Fiction. This is work by an author writing at the peak of her craft.
A 5-Star Review: Dark, very dark, but written so beautifully and true. I could not put this book down. I am going to read more of her work. Proulx is just amazing and understands the human condition. Reminds me of Cormac McCarthy.
A Critical Review: The stories were okay. Many were quite boring. Lonely Coast was my favorite. Broke back Mountain seemed rush (I know it's a short story). Also, how she moves on to describe certain scenes is an awkward transition. I read it for a class, otherwise I don't think I would've picked it up on my own.
Best Western Books # 11) Warlock (New York Review Books Classics)
Book Summary: Oakley Hall's legendary Warlock revisits and reworks the traditional conventions of the Western to present a raw, funny, hypnotic, ultimately devastating picture of American unreality. First published in the 1950s, at the height of the McCarthy era, Warlock is not only one of the most original and entertaining of modern American novels but a lasting contribution to American fiction."Tombstone, Arizona, during the 1880's is, in ways, our national Camelot: a never-never land where American virtues are embodied in the Earps, and the opposite evils in the Clanton gang; where the confrontation at the OK Corral takes on some of the dry purity of the Arthurian joust. Oakley Hall, in his very fine novel Warlock has restored to the myth of Tombstone its full, mortal, blooded humanity. Wyatt Earp is transmogrified into a gunfighter named Blaisdell who . . . is summoned to the embattled town of Warlock by a committee of nervous citizens expressly to be a hero, but finds that he cannot, at last, live up to his image; that there is a flaw not only in him, but also, we feel, in the entire set of assumptions that have allowed the image to exist. . . . Before the agonized epic of Warlock is over with—the rebellion of the proto-Wobblies working in the mines, the struggling for political control of the area, the gunfighting, mob violence, the personal crises of those in power—the collective awareness that is Warlock must face its own inescapable Horror: that what is called society, with its law and order, is as frail, as precarious, as flesh and can be snuffed out and assimilated back into the desert as easily as a corpse can. It is the deep sensitivity to abysses that makes Warlock one of our best American novels. For we are a nation that can, many of us, toss with all aplomb our candy wrapper into the Grand Canyon itself, snap a color shot and drive away; and we need voices like Oakley Hall's to remind us how far that piece of paper, still fluttering brightly behind us, has to fall." —Thomas Pynchon
A 5-Star Review: I found "Warlock" one of the best western stories I have read. I rank this tome right there with Lonesome Dove and Shane. A classic story with characters that come alive through the wonderful words and nuance of the author. I strongly recommend this book to anyone who loves not just western lore but human stories.
A Critical Review: I don't know what all the hype is about concerning this "classic" novel. It was a bit boring which rendered it uninteresting. I have read westerns older than this and found them to be very entertaining. The Oxbow Incident, The Searchers, The unforgiven or even Shane were light years ahead of this book.Revisionism at it's worst.
Best Western Books # 12) The Sisters Brothers
Book Summary: Hermann Kermit Warm is going to die. The enigmatic and powerful man known only as the Commodore has ordered it, and his henchmen, Eli and Charlie Sisters, will make sure of it. Though Eli doesn't share his brother's appetite for whiskey and killing, he's never known anything else. But their prey isn't an easy mark, and on the road from Oregon City to Warm's gold-mining claim outside Sacramento, Eli begins to question what he does for a living-and whom he does it for.
With The Sisters Brothers, Patrick deWitt pays homage to the classic Western, transforming it into an unforgettable comic tour de force. Filled with a remarkable cast of characters-losers, cheaters, and ne'er-do-wells from all stripes of life-and told by a complex and compelling narrator, it is a violent, lustful odyssey through the underworld of the 1850s frontier that beautifully captures the humor, melancholy, and grit of the Old West and two brothers bound by blood, violence, and love.
A 5-Star Review: A very strange, but wonderful book. The narrator's voice is eloquent and thoughtful. It is the story of two hired killers in the old west. It sort of reminded me of the bizarreness in 'Pulp Fiction'. If you enjoy philosophical discussions, you will appreciate this novel.
A Critical Review: Read for book club. Would not have selected it. Simplistic writing. Didn't feel a connection to any characters. Just a lot of thoughtless killing.
Best Western Books # 13) The Assassination of Jesse James by the Coward Robert Ford: A Novel (P.S.)
Book Summary: A powerful novel of the infamous Western outlaw and his killer: "The best blend of fiction and history I've read in a long while" (John Irving). By age thirty-four, Jesse James was already one of the most notorious and admired men in America. Bank robber, train bandit, gang leader, killer, and beloved son of Missouri— James's many epithets live on in newspapers and novels alike. As his celebrity was reaching its apex, James met Robert Ford, the brother of a James gang member—an awkward, antihero-worshipping twenty-year-old with stars in his eyes. The young man's fascination with the legend borders on jealous obsession: While Ford wants to ride alongside James as his most-trusted confidant, sharing his spotlight is not enough. As a bond forms between the two men, Ford realizes that the only way he'll ever be as powerful as his idol is to become him; he must kill James and take his mantle. In the striking novel that inspired the film of the same name starring Brad Pitt and Casey Affleck, bestselling author Ron Hansen retells a classic Wild West story that has long captured the nation's imagination, and breathes new life into the final days and ignoble death of an iconic American man.
A 5-Star Review: If you enjoy the tales of the Old West, this book is for you. The book is written in such a manner that you can feel the heat of the summer sun or the biting cold of the winter. I am not a fan of western lore, I do not even watch western movies, but I decided to take a chance on this book. I was richly rewarded for the hours that I spent reading the book. Highly recommend.
A Critical Review: The subject matter was intriguing to me as I live in the southwest and love the wild west history. But I could not get past about 30 pages of this book.
Best Western Books # 14) The Virginian (Enriched Classics)
Book Summary: Still as exciting and meaningful as when it was written in 1902, Owen Wister's epic tale of one man's journey into the untamed territory of Wyoming, where he is caught between his love for a woman and his quest for justice, has exemplified one of the most significant and enduring themes in all of American culture. With remarkable character depth and vivid descriptive passages, The Virginian stands not only as the first great novel of American Western literature, but as a testament to the eternal struggle between good and evil in humanity, and a revealing study of the forces that guide the combatants on both sides. Pocket Books' Enriched Classics present the world's greatest literature enhanced for the contemporary reader. This edition of The Virginian has been prepared by Gary Scharnhorst, professor of English at the University of New Mexico. It includes his introduction, notes, a selection of critical excerpts, and suggestions for further reading, as well as a unique visual essay of period illustrations and photographs.
A 5-Star Review: Very good book. A safe read for all members of the family. It teaches much about the frontier, even today, and also the key traits for strong character: Hard work, love, loyalty, honesty, sound mind, and the importance of being aware of the good and the bad of the world.
A Critical Review: This was so painful to read. Westerns are already difficult for me to get through but the dialogue in this made it borderline unbearable. The best part was the chapter on Emily the chicken.
Best Western Books # 15) Inland: A Novel
Book Summary: NEW YORK TIMES BESTSELLER
In the lawless, drought-ridden lands of the Arizona Territory in 1893, two extraordinary lives unfold. Nora is an unflinching frontierswoman awaiting the return of the men in her life—her husband, who has gone in search of water for the parched household, and her elder sons, who have vanished after an explosive argument. Nora is biding her time with her youngest son, who is convinced that a mysterious beast is stalking the land around their home.Meanwhile, Lurie is a former outlaw and a man haunted by ghosts. He sees lost souls who want something from him, and he finds reprieve from their longing in an unexpected relationship that inspires a momentous expedition across the West. The way in which Lurie's death-defying trek at last intersects with Nora's plight is the surprise and suspense of this brilliant novel.Mythical, lyrical, and sweeping in scope, Inland is grounded in true but little-known history. It showcases all of Téa Obreht's talents as a writer, as she subverts and reimagines the myths of the American West, making them entirely—and unforgettably—her own.Praise for Inland"As it should be, the landscape of the West itself is a character, thrillingly rendered throughout. . . . Here, Obreht's simple but rich prose captures and luxuriates in the West's beauty and sudden menace. Remarkable in a novel with such a sprawling cast, Obreht also has a poetic touch for writing intricate and precise character descriptions."—The New York Times Book Review (Editors' Choice)"Beautifully wrought."—Vanity Fair"Obreht is the kind of writer who can forever change the way you think about a thing, just through her powers of description. . . . Inland is an ambitious and beautiful work about many things: immigration, the afterlife, responsibility, guilt, marriage, parenthood, revenge, all the roads and waterways that led to America. Miraculously, it's also a page-turner and a mystery, as well as a love letter to a camel, and, like a camel, improbable and splendid, something to happily puzzle over at first and take your breath away at the end."—Elizabeth McCracken, O: The Oprah Magazine
A 5-Star Review: Structure is magnificent; writing is lovely. And that ending, that ending! Worth every page. You have to earn this story, it is not given to you. Takes place in one day in the Arizona desert. Full of ghosts, magical realism, the way Obrecht has built this story is wonderful engineering. This is not craft; this is talent. Two narrators, vastly different, ride side by side until the ending weaves the two together with what I found was incredible force. Loved this book. Highly recc. Strong writing, strong story, beautiful pay off. Read it.
A Critical Review: Let me first say. If it wasn't required for book club, I never would have chosen this book to read. Now, that's out of the way. The first few chapters had me interested. After the six chapter or so, not very far into the book; it got confusing with the introduction of characters and their purpose for the intro. Over all not my kind of book. Even though the writing style was unique, I didn't like it.
Best Western Books # 16) Valdez Is Coming: A Novel
Book Summary: Touching on the themes of the popular FX series Justified featuring U.S. Marshall Raylan Givens, Valdez Is Coming is New York Times bestselling author Elmore Leonard's classic western tale of corruption, justice, and vengeance.
Forced to gun down an innocent man, part-time sheriff Roberto Valdez is nearly killed and run out of town when he seeks justice for the dead man's family. But the same townsfolk who laughed at Valdez's dark skin, mocked his decency, and tied him to a cross will find themselves on the wrong side of a gun when the lawman comes back to deliver his own brand of justice.
A 5-Star Review: I have read a lot of Elmore Leonard, but never a western. This is one of his best books I have ever read. The writing is better than in Get Shorty or any of the other stuff I am familiar with. It's almost Steinbeck good.
A Critical Review: I read Leonard's "Gunsight's", & I didn't really care for it, but I tried this book anyway. It was better than "Gunsights", but I still believe that William W. Johnstone's books are a better read. My advice to any western novel fan is try it anyway, –don't miss out because of someone elses opinion.
Best Western Books # 17) Willa Cather : My Antonia
Book Summary: "My Ántonia" evokes the Nebraska prairie life of Willa Cather's childhood, and commemorates the spirit and courage of immigrant pioneers in America. One of Cather's earliest novels, written in 1918, it is the story of Ántonia Shimerda, who arrives on the Nebraska frontier as part of a family of Bohemian emigrants. Her story is told through the eyes of Jim Burden, a neighbor who will befriend Ántonia, teach her English, and follow the remarkable story of her life. Working in the fields of waving grass and tall corn that dot the Great Plains, Ántonia forges the durable spirit that will carry her through the challenges she faces when she moves to the city. But only when she returns to the prairie does she recover her strength and regain a sense of purpose in life. In the quiet, probing depth of Willa Cather's art, Ántonia's story becomes a mobbing elegy to those whose persistence and strength helped build the American frontier. Willa Cather was a great artist. —Truman Capote No romantic novel ever written in America, by man or woman, is one half so beautiful as "My Ántonia". —H. L. Mencken The time will come when Willa Cather will be ranked above Hemingway. —Leon Edel
A 5-Star Review: I can't think of another novel that captures the time and place as well as Cather's My Antonia. It's a wonderful story of an immigrant family settling in Nebraska, and the travails of the displacement and the introduction to the hardscrabble life of midwestern winters and poverty in the late 1800s. The writing is simple and utterly compelling — direct but authoritative. Her ability to describe landscape is distinctive and extraordinary.
A Critical Review: Bought this book for a class assignment. The book is so boring. I had some serious health issues come up so I flunked the class, but when I repeated the class under a different professor we didn't even use this book. For me it was a complete waste of money. If I could've I would've just rented the book or checked it out of the library.
Best Western Books # 18) The Revenant: A Novel of Revenge
Book Summary: A thrilling tale of betrayal and revenge set against the nineteenth-century American frontier, the astonishing story of real-life trapper and frontiersman Hugh GlassThe year is 1823, and the trappers of the Rocky Mountain Fur Company live a brutal frontier life. Hugh Glass is among the company's finest men, an experienced frontiersman and an expert tracker. But when a scouting mission puts him face-to-face with a grizzly bear, he is viciously mauled and not expected to survive. Two company men are dispatched to stay behind and tend to Glass before he dies. When the men abandon him instead, Glass is driven to survive by one desire: revenge. With shocking grit and determination, Glass sets out, crawling at first, across hundreds of miles of uncharted American frontier. Based on a true story, The Revenant is a remarkable tale of obsession, the human will stretched to its limits, and the lengths that one man will go to for retribution.
A 5-Star Review: Fantastic historical fiction based on the fur trade of the early 1800's and on the fascinating life of fur trapper and all around bad pass, Hugh Glass. Now an Oscar winning film as well. Written by a U.S. government official with access to rich resources and research from which to carve a thrilling tale of return and revenge. Highly recommended for the reader interested in U.S. history and frontier life. I especially enjoyed the thorough descriptions of survival tactics and the rich prose used to illuminate life on the frontier.
A Critical Review: Haven't seen the movie but it is hard to imagine how it would be done. It has a terrible ending which leaves the reader with many unanswered questions.
Best Western Books # 19) Doc: A Novel
Book Summary: NATIONAL BESTSELLER
Born to the life of a Southern gentleman, Dr. John Henry Holliday arrives on the Texas frontier hoping that the dry air and sunshine of the West will restore him to health. Soon, with few job prospects, Doc Holliday is gambling professionally with his partner, Mária Katarina Harony, a high-strung, classically educated Hungarian whore. In search of high-stakes poker, the couple hits the saloons of Dodge City. And that is where the unlikely friendship of Doc Holliday and a fearless lawman named Wyatt Earp begins— before the gunfight at the O.K. Corral links their names forever in American frontier mythology—when neither man wanted fame or deserved notoriety.
A 5-Star Review: This is the novel to read for anyone interested in the old west, the Earp brothers, and of course Doc Holiday. Mary Doria Russell does a masterful job in presenting the complex character of John Henry Holiday. You can't help but ask the question, "what if…" as you read this well-written and informative book. I will definitely read her sequel book "Epitaph".
A Critical Review: And all this time I thought Doc Holliday was just a regular old colorful character from the wild west days, but thanks to this book I now know he was a god! I think Mary Doria Russell must have fallen in love with this perfect man. Seriously, probably a lot of research went into this drivel and that's a shame.
Best Western Books # 20) Follow the Free Wind (Center Point Premier Western (Large Print))
Book Summary: Novel featuring James Beckwourth, an African American, who was a fur trader, Indian fighter, and adventurer in the early nineteenth-century American west.
Beckwith was known far and wide as a runaway slave, a renegade, a horse thief, and a fearsome warrior who had taken over a hundred scalps, among other things. But the real James Beckwith was even bigger than his mythic persona. Beckwith was as wild and untamed as the land he loved and conquered. Fiercely proud and bitterly stubborn, he seemed to enjoy making enemies with his displays of harsh courage.
A 5-Star Review: Brackett won a Western Writers of America Spur Award (the highest honor award in the genre) for her ground-breaking novel, "Follow The Free Wind, a novel based on the life and adventures of Jim Beckwourth — a man born a black slave, who became a mountain man and a war chief of the Crow nation. I read the book as a teenager, when I voraciously consumed any novel clad in buckskins. Picked it up from the library last week, and damned if it don't hold up 30 years later.
True to Brackett's pulp roots, it's a slim, tightly-written novel that starts in action and keeps the pace roaring like a spring freshet in the Rockies. The book was written in 1963, just as the Civil Rights Movement was really gathering steam. For the keepers of a conservative genre like the Western to honor it with its highest award says a lot — especially about the quality of Leigh Brackett's writing.
A Critical Review: Beckwith was known far and wide as a runaway slave, a renegade, a horse thief, and a fearsome warrior who had taken over a hundred scalps, among other things. But the real James Beckwith was even bigger than his mythic persona. Beckwith was as wild and untamed as the land he loved and conquered. Fiercely proud and bitterly stubborn, he seemed to enjoy making enemies with his displays of harsh courage.
Best Western Books # 21) Journal of the Gun Years
Book Summary: Back East, they told tall tales about Marshall Clay Halser, the fearless Civil War veteran who became known as the "Hero of the Plains" for his daring exploits in the Wild West. But the truth, as revealed in his private journals, is even more compelling.A callow youth in search of excitement, Halser travels to the raucous cow towns of the frontier, where his steady nerve and ready trigger finger soon mark him as a gunfighter to be reckoned with. As both an outlaw and a lawman, he carves out a legendary career. But fame proves to be the one enemy he can never outdraw–and a curse that haunts him to the bitter end . . . .At the Publisher's request, this title is being sold without Digital Rights Management Software (DRM) applied.
A 5-Star Review: I'm not a fan of western books in general, but this one had my attention from page one. I fell in love with the characters and it is a very quick read. I borrowed this from the library and bought it to read again and again. The book came in perfect condition; no complaints at all.
A Critical Review: The plot is tired and too familiar. The writing style is stilted and flowery. Surprised by the positive reviews.
Best Western Books # 22) The Dark Tower I: The Gunslinger (1)
Book Summary: Now a major motion picture starring Matthew McConaughey and Idris Elba "An impressive work of mythic magnitude that may turn out to be Stephen King's greatest literary achievement" (The Atlanta Journal-Constitution), The Gunslinger is the first volume in the epic Dark Tower Series.A #1 national bestseller, The Gunslinger introduces readers to one of Stephen King's most powerful creations, Roland of Gilead: The Last Gunslinger. He is a haunting figure, a loner on a spellbinding journey into good and evil. In his desolate world, which mirrors our own in frightening ways, Roland tracks The Man in Black, encounters an enticing woman named Alice, and begins a friendship with the boy from New York named Jake. Inspired in part by the Robert Browning narrative poem, "Childe Roland to the Dark Tower Came," The Gunslinger is "a compelling whirlpool of a story that draws one irretrievable to its center" (Milwaukee Sentinel). It is "brilliant and fresh…and will leave you panting for more" (Booklist).
A 5-Star Review: This book is a great read! All this time I spent reading everyone other than Stephen King. He is gifted! And I cannot say that enough. One night I start reading this. I bought the e-book. I was so tired I kept falling asleep but kept waking up to read more and more. Even though I was sleep reading, I remembered everything that I read which is quite rare for me. Stephen King is a powerful story teller and if you read this book you will find that out first hand.
A Critical Review: I am an avid reader, approximately 100 books per year on a variety of topics and themes. I have to say that The Dark Tower I: The Gunslinger is one of the most unreadable books I have ever encountered. I powered through over half of the book before I asked myself; WTH am I spending my time reading this nonsense. I will never attempt to finish this book due to the intense boredom of it. I can't say more than that except don't waste your time.
Best Western Books # 23) Little Big Man: A Novel
Book Summary: "The truth is always made up of little particulars which sound ridiculous when repeated." So says Jack Crabb, the 111-year-old narrator of Thomas Berger's 1964 masterpiece of American fiction, Little Big Man. Berger claimed the Western as serious literature with this savage and epic account of one man's extraordinary double life.After surviving the massacre of his pioneer family, ten-year-old Jack is adopted by an Indian chief who nicknames him Little Big Man. As a Cheyenne, he feasts on dog, loves four wives, and sees his people butchered by horse soldiers commanded by General George Armstrong Custer. Later, living as a white man once more, he hunts the buffalo to near-extinction, tangles with Wyatt Earp, cheats Wild Bill Hickok, and fights in the Battle of Little Bighorn alongside Custer himself—a man he'd sworn to kill. Hailed by The Nation as "a seminal event," Little Big Man is a singular literary achievement that, like its hero, only gets better with age.Praise for Little Big Man "An epic such as Mark Twain might have given us."—Henry Miller "The very best novel ever about the American West."—The New York Times Book Review "Spellbinding . . . [Crabb] surely must be one of the most delightfully absurd fictional fossils ever unearthed."—Time "Superb . . . Berger's success in capturing the points of view and emotional atmosphere of a vanished era is uncanny. His skill in characterization, his narrative power and his somewhat cynical humor are all outstanding."—The New York Times
A 5-Star Review: I was actually surprised at how much I enjoyed this book. As a 70+ white woman, this is not my usual type of read. But I couldn't put it down and enjoyed it as just an entertaining tale. I'm not prone to dissecting what is and is not real in a book like this. Since some of it is clearly based on Western factual history, I just read and enjoyed. I felt like I was there in so many of the descriptions of tepees, barrooms and battles. I liked and related to the characters; all of them.
A Critical Review: I bought this after rereading the fabulous True Grit, and it was hurt by the comparison. Grit has a wonderful narrative voice and concision, and rattles right along in the same fictional universe. Big Man has moments, but is long, discursive and can wear thin around the halfway mark. The unreliable narration trick, layered on a genre retelling of the wild west, is fun, as is the improbable meanderings of the hero and his bumps with history.
Best Western Books # 24) Destiny's Embrace
Book Summary: Award-winning romance author Beverly Jenkins offers up another high-stakes historical romance that is sure to make you swoon.
With Destiny's Embrace, Jenkins brings readers back to the American West, where Logan Yates, a self-important ranch owner, must confront his feelings for his beautiful, free spirited housekeeper, Mariah Cooper. While they bicker incessantly, their sexual tension is palpable, and only rises when Mariah's former lover arrives on the scene. Will she accept Logan's heart?
Set in 19th-century California, Destiny's Embrace features unforgettable characters and a satisfying mix of adventure and passion from nation's premier writer of African-American historical romance.
A 5-Star Review: What a great writer Beverly Jenkins is, she weaves history seamlessly into a fascinating story. I was a little skeptical about reading about how the African American characters would be portrayed but, I was both proud and intrigued. As a fan of historical romances I am ashamed to say this is my first book by a Black writer. I am so glad I discovered a writer who documents the positive aspects of our Black history. Beverly you make me proud.
A Critical Review: This authors work over the years has been outstanding. I hoped for the same creative approach and historical reference as in her previous novels. This book is well below her usually standards. Very disappointing.
Best Western Books # 25) Under a Painted Sky
Book Summary: From the author of Outrun the Moon, Stacey Lee's debut novel is a powerful story about love, friendship, and sacrifice. Perfect for fans of Code Name Verity. "This moving novel will captivate you."—Buzzfeed.com All Samantha wanted was to move back to New York and pursue her music, which was difficult enough being a Chinese girl in Missouri, 1849. Then her fate takes a turn for the worse after a tragic accident leaves her with nothing and she breaks the law in self-defense. With help from Annamae, a runaway slave she met at the scene of her crime, the two flee town for the unknown frontier. But life on the Oregon Trail is unsafe for two girls. Disguised as Sammy and Andy, two boys heading for the California gold rush, each search for a link to their past and struggle to avoid any unwanted attention. Until they merge paths with a band of cowboys turned allies, and Samantha can't stop herself from falling for one. But the law is closing in on them and new setbacks come each day, and the girls will quickly learn there are not many places one can hide on the open trail. Winner of the SCBWI Crystal Kite Award An ALA Best Fiction for Young Adults Pick An Amelia Bloomer Book
A 5-Star Review: Entertaining. The kind of book that makes you feel good inside, yet also makes you think. Storytelling that stretches you just enough to see another person's world, and then helps you apply those thoughts to your own life. I really enjoyed this book, and I will probably read it again. I don't do that often. But some books are just that good.
A Critical Review: There is some attempted sexual violence. Otherwise this is a good book for middle and high schoolers. Story of a Chinese American and African American girl on the run in the wild wild west.
Conclusion
Strong characters, recurring revenge themes, and detailed depictions of geographical settings are what make Western Books captivating and interesting to many people despite the variety of genres available today. If you love action-packed western fiction, then we encourage you to check out our list of similar western authors here. And if you are looking for a book you can read for free, check out this month's free read.