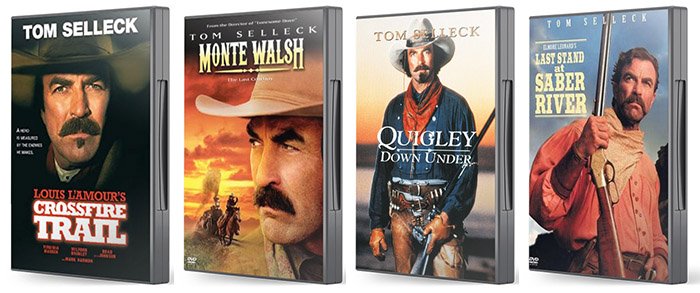 The List Of Tom Selleck Western Movies
Here is the complete list of western movies starred by Tom Selleck, an award-winning American actor and film producer known for his portrayal of "Thomas Magnum" in the hit 1980s detective series, "Magnum, P.I."
Tom Selleck is an American movie star and film producer made famous for his impressive career and good choice of roles, whether as a cop or investigator, in many television series and films.
Who is Tom Selleck?
Thomas William "Tom" Selleck, an accomplished American actor and film producer, was born in Detroit, Michigan, on January 29, 1945. His father, Robert Dean Selleck, worked as a real estate investor and executive. On the other hand, his mother, Martha Jagger, was a housewife. Tom had three siblings and was of English descent, and they later moved to Los Angeles, California.
Selleck initially dreamt of becoming a professional athlete. With his athletic built and talent as a collegiate athlete, he earned a basketball scholarship to attend the University of Southern California. He studied business administration and was in management training for United Airlines while playing for the school's men's basketball team. Selleck used to model to support himself and got small parts in films, television projects, and commercials. It was during that time when a drama coach advised him to pursue acting. Following the advice, he then took up an acting course at the Beverly Hills Playhouse, studying under Milton Katselas.
His professional acting career started by playing minor roles in television series and films like "The Rockford Files" in the 1970s and "Charlie's Angels" in 1976. He made a debut television appearance as a college senior on "The Dating Game" in 1965. His career wasn't moving forward, and he had a rough start as a new face in the industry. However, this changed when he received his big break in the crime show, "Magnum, P.I," playing the lead character, "Thomas Magnum," an easygoing private investigator in Hawaii. The series, which had its first broadcast on the CBS network in December 1980, became a hit, one of the top-rated shows on U.S. television, and lasted eight seasons. The show also gave Selleck an Emmy Award for Outstanding Lead Actor in 1984and a Golden Globe.
Selleck appeared on more than 50 television shows and movies. Among his roles were "Dr. Richard Burke" on "Friends" in 1994 and "A.J. Cooper" on "Last Vegas" in 2003. He also ventured to play cowboy roles in Western movies, his first cowboy film being "The Sacketts" in 1979. His other Western films include "London in Lassiter" and "The Last Stand at Saber River," which gave him a Western Heritage Award in 1997. His most successful movie release was "Three Men and a Baby," which became the highest-grossing movie in 1987. He also played the patriarch, "Commissioner Frank Reagan" on CBS's popular police drama, "Blue Bloods," debuted in 2010.
He married Jacqueline Ray in 1971 and adopted son actor Kevin Selleck. The couple ultimately divorced in 1982, after almost 11 years of marriage. Selleck is currently married to Jillie Mack since 1987 and has one daughter, Hannah Margaret Selleck.
Tom Selleck Complete Western Movie List & Summary
Here is Tom Selleck's list of movies along with a short summary:
Tom Selleck Western Movies # 1) Monte Walsh
Movie Summary: Times change, Monte Walsh doesn't. For him, being a cowboy isn't a job, it's a life. And that's something the, corporate-bean-counting ways which the 20th century must never alter.
A 5-Star Review: I own this movie and both my husband and I love the depiction of a cowboy's life more than a century ago. We've watched it so many times that we even know some of the dialog. There is a delightful mix of realism and moments of laughter amongst the grittiness of life in the saddle. This movie is an excellent opportunity for a writer of westerns to get a feel of the times. It has an excellent cast of actors and Tom Selleck never disappoints–he makes this movie the classic it's become.
A Critical Review: Accidentally ordered this movie. Thought it was the dvd. Tried to cancel immediately but was notified that I could not. It said that I had started to watch the movie. That was a lie!!!!
Tom Selleck Western Movies # 2) Crossfire Trail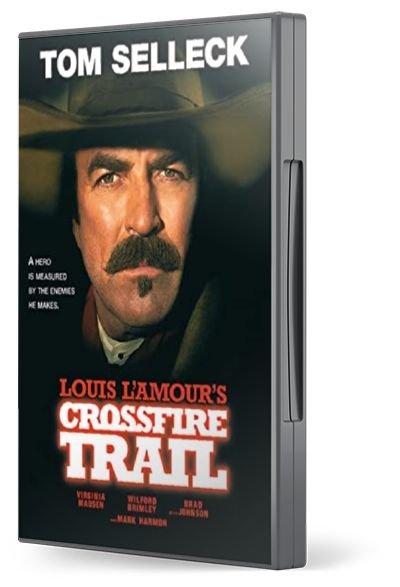 Movie Summary: Tom Selleck stars as Rafe Covington in Louis L'Amour's tale of arestless wanderer who promises his dying friend that he will look afterhis friend's widow, Ann, and her Wyoming ranch.
A 5-Star Review: This Is a Great Western Movie,,, Not As "Fact Filled" As "Lonesome Dove",,, But This Has To Be One of Tom Selleck's Best Movies… Great Acting Throughout,,, Great Screenplay,,, Great Cinematography,,, Great Continuity and Flow… Mark Harom Is The "Weak_Link" ,,, He "Misses" His Character By a Mile… But Still It's Great Entertainment From Start To Finish… Hope This Helps You,, Try It You May Enjoy It As Much As I Did…
A Critical Review: If you like Tom Selleck, you will find this movie worth your time. Oh, it's not a great movie that you'll watch over and over, but it's not a waste of your time either. If you are into the western style genre, you will enjoy Crossfire Trail. True, the book is much, much better than the movie, but when is that not the case?
Tom Selleck Western Movies # 3) Quigley Down Under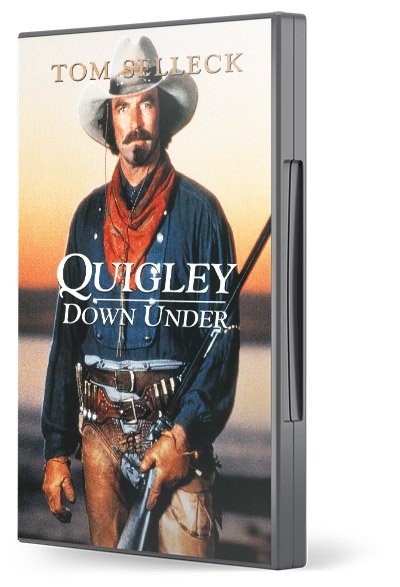 Movie Summary: Sharpshooter Matt Quigley is hired Down Under.
A 5-Star Review: This is an incredible movie. This is one of those movies that can get overlooked by people who are not a fan of westerns. Which is a shame because of the story that is told and how it is told. The three leading actors turn in a great performance. Although, the performance, story, and interaction between Tom Selleck and Laura San Giacomo characters are what take this movie beyond a simple western. The movie is driven by the story and characters and not by special effects, cliches, or emphasis on flash over substance. The dialogue is believable and appropriate for the period and setting. The story takes place in Australia and is filmed there as well which adds to what makes this such a unique movie and western. Watching this, I see parallels that make me think that Quigley is to Australia, as Quartermain is to Africa.
A Critical Review: This video is probably the worst ever gotten ,the volume one minute is so low you can't hear it, then the next thing volume tops out . it was so bad I just thru it in the trash ,the company that made this has to be the worst I've ever done business with .
Tom Selleck Western Movies # 4) Last Stand At Saber River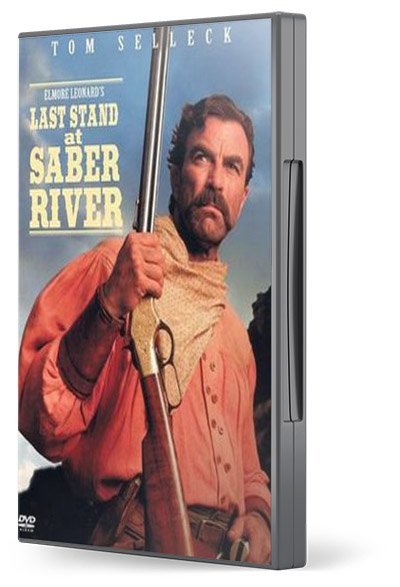 Movie Summary: With his strong-willed pioneer wife (Suzy Amis) and two children (Haley Joel Osment and Rachel Duncan), ex-Confederate cavalryman returns to his Arizona home to resume a quiet life.
A 5-Star Review: I think Tom Selleck could perform in any western and be great. He's a real natural. Tom Selleck (Paul Cable) came back from war with only one thought of putting his life back together and to find he has only to face the hardships of fighting again to regain what we rightfully his when he left and to a wife Suzy Amis (Martha Cable)who has her own battle of adjustments. Now she must face the fact Paul is alive after she believed he was dead. She must deal with the anger she has because she blamed him for leaving his children and her to fight in the war. She also did a good job of acting. I have watched this movie a couple times and plan to watch it a lot more.
A Critical Review: It's Tom Selleck, right……???? But still, I hate to be a book snob, but the book was so much better. I've been reading all of Elmore Leonard's books and then watching the movies that were based on the books to see how they compare. I expected this one to be really good since the book was good and I love Tom Selleck, but I was a little disappointed in this adaption. Wasn't as great as I was expecting. The book was so fantastically written that I was amazed at how much this movie fizzled. I know they have to change some things around to explain the story line, but this was so off base with the book's story line that I was left really disappointed. Too bad. They could have done a much better job.
Tom Selleck Western Movies # 5) The Shadow Riders
Movie Summary: Tom Selleck (TV's Magnum P.I.) and Sam Elliot (Tombstone) star as brothers who battled on opposing sides of the Civil War only to return home to discover that their family, including a younger brother and one of the brothers' fiancées, have been kidnapped by a marauding band of rebel guerrillas whorefuse to accept the defeat of the Confederacy. Aided by their uncle, they set out to rescue the f..
A 5-Star Review: Great movie full of real men.
I bought this DVD because I loved a movie poster that I saw with Tom Selleck and Sam Elliott.
They looked like real men before we started to raise snowflakes with man buns.
The story was great love the movie and the action and of course the actors. The quality of the movie back then was not so great. The music was so loud and the voices were so quiet. On Long riding scenes it was just loud music. I ended up muting a lot of the movie and just listening to the dialogue. And I still loved it.
A Critical Review: Well, Everyone loves Tom Selleck and Sam Sheppard and the movie attraction is probably listening to them banter back and forth. However, this western exhibits about everything wrong with so many westerns all in one movie. The lead female in this western is dragged all across America and never has a flaw in her makeup alway remaining model quality. The horses are galloped across country and never get tired or sweat. The guns never run out of bullets and Tom and Sam travel across country with no food, water, or pack horse. The move is a western fantasy.
Tom Selleck Western Movies # 6) The Sacketts
Movie Summary: Louis L'Amour's epic Western saga of brothers who blazed a name across the untamed post-Civil War New Mexico frontier.
A 5-Star Review: Excellent western! I bought this as a Fathers Day gift for my husband. We caught one part one of it on cable & never found part two. My husband loved what he had seen & kept asking if the rest of this mini series ever came up. Never did. So I was really happy to find this dvd on Amazon. It's so hard to shop for men. I know he'll love this dvd! This would make a great gift for any man. Great cast & wonderful character driven story about three brothers. No fancy special effects at all. None needed when you have a good, strong story with likable characters like this. Tom Selleck is so great in westerns. This is a must for lovers of westerns. Update: My husband & I watched the entire two part "mini series" together & we both LOVED it! Awesome storyline about three brothers making their way in a rough country. We got completely invested with the characters. The performances are perfect & everything was so believable. Appropriate for the entire family. Nothing offensive nor of a sexual nature. You can watch this with your kids. You son or grandson would especially love this. It's right up there with Lonesome Dove (also sold on Amazon). Kept our interest until the very end. We were sad it was over. We highly recommend this great dvd. I hope this is helpful.
A Critical Review: Decent western, great older actors and eye candy younger ones. Most behavior seemed childish, swagger and bluster. Lots of killing with guns. Villain racist. Revenge a wasteful motive. Length a bargain.
Women portrayed as weak, immoral, and/or helpless. Men mostly absurd in what the script writers thought passed for manliness.
Boring but no cursing, naked sex scenes, or bloody gore.
I watched the whole thing. Would have been better if at the end of the cattle drive, the Sacketts got married and carved out a life. Not the fighting ending in the gunfight at the ok corral.
Conclusion
With more than fifty, movie and television appearances, Tom Selleck remains an accomplished and award-winning actor, with numerous awards and honors rightfully earned for his contribution to the film industry. If you love action-packed western films, then we encourage you to check out our list of similar western actors here. And if you are looking for a book you can read for free, check out this month's free read.