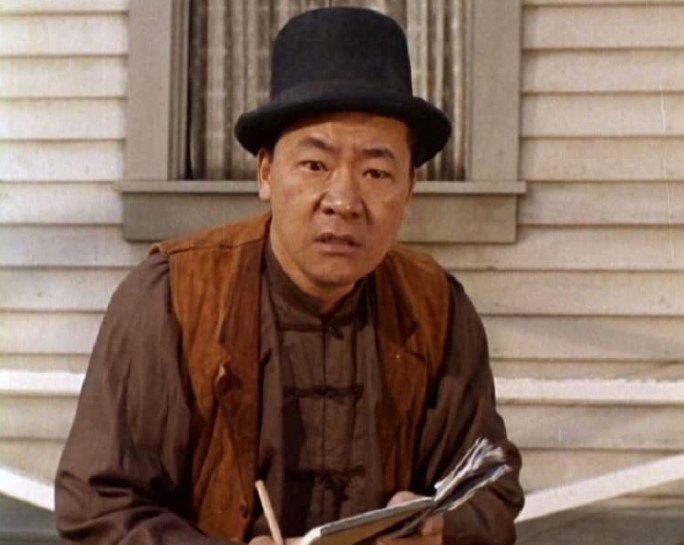 Tax Collector Full Episode – Bonanza, Season #02, Episode #22
The Cartwright family, a family of four who lives at the fictional Ponderosa ranch, is the focus of the Western television series entitled Bonanza. The Tax Collector, season two's twenty-second episode, was written by Arnold Belgard and aired on February 18, 1961.
Jock Henry (Eddie Firestone) becomes the tax collector for Virginia City at the request of a local bureaucrat. However, Jock becomes power drunk, imposing massive, unfair assessments on everyone in his path. Hence, when Jock finds himself in a series of profound personal crises, no one comes to help him—except Hoss Cartwright.
Kathie Browne portrays Ellen, while Russ Conway acts as Dave Hart. In the later episodes of Bonanza, particularly in the fifth season, Kathie Browne also played Adam Cartwright's fiancee, Laura Dayton.
Read The Tax Collector's plot, including some fascinating trivia, or watch the full episode below.
Watch the Full Episode of Tax Collector
Watch the Full Episode of Tax Collector:
Main Cast
The Tax Collector, Bonanza's fifty-fourth episode and second season's twenty-second, features the lead actors and some of the program's recurring members.
The actors in the episode are as follows:
Lorne Greene as Ben Cartwright
Pernell Roberts as Adam Cartwright (credit only)
Dan Blocker as Eric 'Hoss' Cartwright
Michael Landon as Joseph 'Little Joe' Cartwright
Eddie Firestone as Jock Henry
Kathie Browne as Ellen Henry
Victor Sen Yung as Hop Sing
Russ Conway as Dave Hart
Charles Watts as Ellery
Florence MacMichael as Nancy Hart
Maudie Prickett as Mrs. Ellery
Henry Corden as Bookie
Walter Bacon as Townsman (uncredited)
George Bell as Townsman (uncredited)
Arthur Berkeley as Townsman (uncredited)
Rudy Bowman as Townsman (uncredited)
John Breen as Townsman (uncredited)
Jaye Durkus as Townsman (uncredited)
Frank Ellis as Townsman (uncredited)
Betty Endicott as Townswoman (uncredited)
Fred Graham as Baxter (uncredited)
Al Haskell as Townsman (uncredited)
Michael Jeffers as Townsman (uncredited)
Bob LaWandt as Townsman (uncredited)
Martha Manor as Townswoman (uncredited)
William Meader as Townsman (uncredited)
Bob Miles as Townsman (uncredited)
Ernesto Molinari as Townsman (uncredited)
Joe Phillips as Townsman (uncredited)
John Rice as Townsman (uncredited)
Cosmo Sardo as Barber (uncredited)
Chick Sheridan as Townsman (uncredited)
Tom Smith as Townsman (uncredited)
Owen Song as Townsman (uncredited)
Jack Tornek as Townsman (uncredited)
Sally Yarnell as Townswoman (uncredited)
Full Story Line for Tax Collector
Hoss was passing Jock Henry's place when he heard a commotion inside the barn. He discovers from Baxter, a ranch hand, that Jock was stealing some of Ponderosa's cut lumber. Jock reveals that he's only taking lumber to build himself a corral, then pledges to pay them back as soon as he gets enough money. Feeling sorry for Jock, Hoss takes responsibility and asks Baxter to keep it a secret. He even assists Jock by digging some postholes for him.
Hoss asks Jock to paint the fresh lumber before Ben realizes the wood came from the Ponderosa. Ben, Little Joe, and Hop Sing pass by and stop after seeing Hoss' hat. Hoss tells them to move along while he follows to watch the race happening in town. Jock's wife, Ellen, comes out of the house to remind her husband to pay the taxes.
At the town race, Joe's horse, Raven, fails to beat Gatling. Jock bet his cattle on Joe's horse, and since he lost, he can no longer pay his taxes.
Jock informs Hoss about his situation. Hoss advises Jock to get a job, but Jock believes no one will hire him. To help his friend, Hoss tells Jock to put on his best clothing as they go to Virginia City for a job hunt.
Despite their efforts to look for work, no shopowner in Virginia City accepts Hoss and Jock. Later, Dave Hart, the tax assessor, screams to capture Jock's attention, causing the latter to hide. However, to his surprise, Dave came to offer him a job. Hoss immediately accepts the offer for Jock, but Jock is skeptical about it. Although hesitant, Jock takes the job right after.
As the Cartwrights were eating, Little Joe and Ben were waiting for Hoss to explain the cut on his cheek. Hoss reveals he went job hunting for Jock Henry. Jock suddenly arrives, so Ben welcomes him in for breakfast. Ben asks for Jock's job, so Hoss tells him that Jock now serves as Dave Hart's assistant. Jock tells Ben that he owes $1647.95 in taxes. Displeased, Ben questions Jock and his skill in tax assessment, considering Ben only paid $375 the year before. Jock informs them that he gets 2% of whatever he collects, so he doesn't overlook anything.
Apart from Ben, the people of Virginia City find Jock's tax assessment displeasing. They go to Dave Hart to complain, but Dave stands with Jock. Seeing nothing they can do, they take their complaints with Jock personally.
Meanwhile, Jock's assessment angers Mrs. Nancy Hart, so she goes after him. A group of women joins the chase with the same enraged feelings. His assessments enraged everyone in town, forcing him to flee back home.
The Cartwrights arrive at Jock's place and see the townspeople complaining about his tax assessment. Ellen defends Jock, reasoning that he's new to his job. The women feel sorry for Ellen, wanting to help her by lynching Jock. However, the situation stresses Ellen, so Jock asks them to at least think of the baby she's carrying. They eventually leave, as per Ellen's request.
The Cartwrights, including Hop Sing, count chickens and livestock at the Ponderosa. They discover that Jock charged them double by including their unborn livestock in his assessment. Ben dubs Jock as one of the "sorry people" who enjoy the life of idleness. On the other hand, women like Ellen pity these people to the point that they disregard their flaws and fall in love with them. However, these "sorry people" take little prosperity or authority obnoxiously, to the extent of abusing them. Hoss and Joe ask how to handle this kind of people, to which Ben replies that you must outwit them.
Ellen finally realizes the change in Jock's behavior, thinking it's time to do something about it. She goes to the Ponderosa to tell Ben about Jock, and Ben agrees. Ellen thinks Jock's job has changed him, so he asks Ben to talk to Jock so he can quit his job. Ben hides his joy in doing so by inviting her into the house so they can talk some more.
Ben calls Joe for a private conversation about Jock. Ben plans to teach Jock a lesson, including Hoss, who allowed his emotions to rule over his head. He tells Joe he wants to purchase a filly from Carson City, which Joe remembers as petite and skinny but lightning quick. Realizing Jock loves to bet on horse races, Joe agrees with Ben's plan.
Ellen returns to the Ponderosa. Ben uses his terrible stage voice to announce Ellen's arrival, ordering Hoss to see why she arrived. As Hoss steps outside, Ben, Joe, and Hop Sing eavesdrop on them through the window.
Ellen asks Hoss to assist Sally, their mare, who is experiencing excruciating pain. Although puzzled about what's happening, he joins Ellen in her buggy. Delighted, Ben slaps Joe's back while Joe comments on his father's connivance. They prepare to head to the town's horse race, where everyone is waiting while Joe gets the filly from the barn.
Everyone in town patiently waits for the race to start. Ben purposely made a $1,000 bet to Ellery, Gatling's owner, for Jock to see. Jock walks over to inspect both horses as Ben and Joe slyly watch him. Jock finds Ellery's horse beautiful while feeling sorry for Ben's filly. Ben tells Jock that he intentionally bought the filly for $500 to race against Gatling, stating his intention to pay his taxes in full. Jock offers roughly $50, but Ben tells him it's not much compared to the $1,000 he's wagering.
Jock doesn't want Ben, his best friend's father, to fool himself by racing with the filly. However, this doesn't stop Ben from pursuing his plan. Jock initially hesitates, but Ben manages to make a bet with Jock.
Back at Jock's place, Hoss checked on Sally's condition and figured she wouldn't deliver her colt today. However, when he was about to leave to fetch Jock, Sally made a sound from the barn. Hoss and Ellen find Sally on the ground. Hoss instructs Ellen to get some hot water. However, by the time she gets to the front door, she experiences discomfort, signaling her labor too.
Ben reminds Joe to win the race so the town can have a new tax collector. Joe plans to let Gatling lead for the first two laps, then overtake on the third. Ben also tells Joe that they'll lose $1,500 if he loses, in which Joe has to pay half the bet.
Hoss gets impatient waiting for Ellen to return with the water, so he looks for her. Hoss finds Ellen on the floor in the house, then carries her to bed. Ellen informs him that she'll also need water. Hoss offers to get Doctor Snow, but Ellen says there isn't enough time. Hoss assures Ellen that things will be fine but immediately shifts attention when Sally makes a noise at the barn. Hoss finds himself much like in a race, running back and forth to tend to Sally and Ellen's needs.
The horse race starts, and everyone starts betting on their pick. Gatling leads the race, making the people bet for him more. Jock approaches Ben to increase their bet, to which they both agree.
To everyone's surprise, Joe finally overtakes Gatling and wins the horse race. Ben asks Ellery for the $1,000 he won after winning against his friend. Joe snatches the $1,000 from his father's grasp, reminding him about half of the bet. Jock looks sullen, then attempts to flee. However, Ben gets a hold of him.
After much time, Sally and Ellen finally gave birth. When Ben, Joe, Hop Sing, and Jock return, Hoss delivers the good news to Jock. Jock is happy to see Sally with their baby and Sally with her colt.
Jock's joy is short-lived when he remembers his bet. Ben reminds Jock that he owes him two years' salary, which stuns Hoss. However, since it's a wage bet, Ben subtly suggests that he doesn't have to pay if he stops working as a tax collector. Jock thinks he can't leave his job because Dave Hart needs him at the office. However, Ben changed Jock's mind after reminding her that Ellen and Sally needed him more than anyone else.
In the end, everyone contributes to helping the couple with some tasks.
Full Script and Dialogue of Tax Collector
[Music]

[Applause]

[Music]

[Applause]

[Music]

[Applause]

[Music]

[Applause]

[Music]

here

[Music]

no no no

baxter

didn't even recognize you well i saw

somebody beating up on a little jock

you sure pack a mean punch horse what

are you doing picking on that little

fella know what that little varmint's up

to ain't no telling what you done now

he's stealing ponderosa lumber not the

fell trees mind you

the cut lumber

oh no you don't come here get over here

and professor was only taking me enough

to build me a little bit of a corral

well i don't reckon you could really

blame a man for

trying to fix his place up could you

well your paw here's what jack's done

we'll see whether he gets the blame or

not i was gonna pay him back just as

soon as i got me some money honest horse

i'll tell you what baxter

i'll take full responsibility for for

all this

if that's the way you want it hoss

me

i'm just a hired hand

boxer

you

you keep it somebody had you here

boss i sure can't tell you how much i

appreciate this huh it's all right john

glad to see you started fixing the old

place up well yeah i i work at it all

the time

[Music]

boss

how was it you told me these post holes

ought to be dug

[Music]

[Applause]

[Music]

[Applause]

awesome

you sure dig pretty

[Music]

[Music]

so

[Music]

hey jock

you that tired

yeah sure i'll tell you jack

keep this up and you're gonna have a

have a real nice place i'm doing it all

on sally's account yeah hi and sally

oh the heat bothers her you know how

they are when they get this way yeah

when's your time um close as i can

reckon about uh three weeks come tuesday

here she comes now

[Music]

[Applause]

[Music]

[Applause]

[Music]

isn't she the sweetest thing ever i

can't hardly wait to see that little

cult of hers yeah from her looks he

ain't gonna be long coming neither

i better get that growl fixed where's

him pose

in the barn

with them awful heavy boards horse

yes sir this time next year i'll be

racing sally

training her little cult i want to make

myself a regular fortune yeah it's a

long time next year little jack what are

you going to be doing in the meantime oh

odd jobs here and there you know me

horse one thing i interfered over is

work you know that don't you oh yeah

yeah jack i know that all right of

course i uh probably could borrow

against my winnings or or i might could

even sell a piece of sally

if i wanted to do a friend a favor

yeah uh

hey listen jock you you got any paint

uh-huh yeah yeah i got some leftover

from last year when i was gonna touch up

the house

because i got so busy i never did get

around to it though yeah well listen i i

think you ought to put a little paint

over this fresh lumber before paul gets

a close look at it yeah

yeah

hey this horse's hat

[Music]

boss

morning mr car ride

good morning

i keep letting you close this lumber

coming paul

[Music]

so this is where you've been all day

mr horse i fix good dinner all get cold

look every place for you

i was just here helping old jock yeah so

i see a poor little feller's got so much

to do i don't reckon he'll ever get it

done

yeah

well you're not forgetting i'm racing

raven against gatling in town today are

you

oh no no no joe i ain't forgetting i was

just trying to be neighborly you you you

fellas going in and i'll try to get

there best of luck to you joe go on go

i'll try to get in okay

[Music]

jaw

oh

jack

howdy miss henry

you sure looks pry today

nice to you to say so hoss

jock's taking bets i come in ahead of

sally

you betting no no i was just spoofing

jack

you were gonna take six head of cattle

into town and pay the taxes

i clean forgot jock you better do that

you better better

i won't be going long

bye oh

jack

if they fetch a good price

will you buy me something

why sure honey anything you want

just the goods to make me a new sun

bonnet

[Music]

sun's beginning to hurt me too

you know what i'll do

i'll buy you one already made up

oh

chocolate

that's real sweet of you

maybe she'll give me three sons someday

like like you and adam and little joe

well

guess i better wrestle my livestock

maybe i can get to town and watch little

joe win that race

[Music]

come on

[Applause]

and you ought to know by now you can't

beat gatlin

what i need's a bigger hat

i don't beat him yet hillary not with

raven you won't

you know you may need a bigger hat but

not for our money

[Music]

[Applause]

you'll find my

your cattle down at delivery stable

mister thank you friend thank you i'm

never betting against that gatling again

until my sally's back in condition

your wife my mare

mister mister

do you mind letting me have two dollar

you 120 now what do you want with two

dollars

to buy her a son bonnet

your mayor

my wife

[Music]

[Applause]

it's lovely jack

thank you

as soon as sally's back in condition and

can race again i'll buy you nothing but

silk

i know you will jack honey i know you

will

[Music]

sure was pretty bunny she bought your

wife jack uh-huh

[Music]

what's the matter with you anyhow yeah

pricing them cattle was no good or what

i lost them

betting on raven

you lost them jack that was your tax

money what am i gonna do with sally in

her condition and ellen and hers

damn bernie jock you're gonna get a job

you're gonna go to work that's what

you're gonna do

ain't nobody who'd hire me well we'll

just see about that

you think maybe your pod give me a job

well

jock there's there's a lot of good

places in virginia city to get a job and

i'll go in and help you boss i i just

can't lose my place to the tax collector

it's all i got to give my cult and my

kid

oh now look at me standing ought to be

ashamed of myself interfering with your

work

you go right ahead

jock

you're going to go in there and put on

your best bib and tucker and i'm going

to go home clean up and we're going into

town you hear that come on

[Music]

[Music]

huh

[Music]

foreign

[Music]

uh

[Music]

so

[Music]

[Applause]

oh

[Music]

[Applause]

[Music]

[Applause]

[Music]

stop

jack henry

tell him it isn't me tell him he made a

mistake john can't keep overhanging

forever that's dave hart the tax

assessor he's after my tax money

jack i've been looking all over for you

i've been trying to find a job honest mr

hart well this was true dave yes that's

what's so funny he's looking for a job

i'm trying to give him one

i don't see what so far

give me one

what kind of a job

well i've got more than i can handle

with the mines and the business

establishments in town

i need someone to assess the settlers

homes and ranches and make the

collections

well uh

what's it pay

60 months for assessing first two months

go to pay his back taxes

but he gets two percent of his

collections to pocket for himself

dave you got him assistant no no wait i

don't know

sally the way she is and alan i'm sure i

want to be away from them

[Music]

i guess they do need a provider

if you really need me mr hart

i'll take the job

well i expect you to work at this now

jock oh dave you'll be the best dead

burn tax collector you ever had uh well

you come with me and i'll give you a

collector's book and i'll list the

people to drop in on

[Applause]

[Music]

oh and tell us or not

who cut your lip for you

i never told you i run into a broom hmm

i just wondered who threw it

when that uh that little scratch you got

there in your cheek huh

cut myself shaving that's the truth

like haas

if you did have a fight oh it wasn't

fight

but if you ask me there's one member of

this family looking for a fight right

now

i'm sorry i'm just worrying about you

that's all

you must know i i was out job hunting

for jack henry

mr henley outside

jack what you doing here

well

ask him to come in have something to eat

we didn't find a job for him did you i

sure did and i got him too

good morning mr henley come in i fix you

nice breakfast come in

thank you hopsin sounds real nice

[Music]

well morning jack morning off hi jack

jack when uh when you gonna start work

start i've been at it since the crack of

dawn now he's up i'm adam

oh

he's adding what's he adding

i don't know was he working

what kind of a job did he get

he's

dave hart's assistant

tax assessor tax collector too

mr cartwright appears you owe the

virginia city treasury sixteen hundred

forty seven dollars and ninety five

cents

sixteen hundred dollars

and forty seven ninety five

just one minute there mr tax assessor mr

henry

since when do you know anything about

tax assessment

last year i paid only 375

the things that dave heart must have

overlooked

thanks to hosser i get two percent of

all i collect so i don't overlook

nothing you care to uh pay up now

you know i wouldn't pay now

mr cartwright i know how you feel about

me being lazy and shiftless and all but

thanks to horse here i've changed and

that's why i come here first out of

gratitude mr cartwright to show you just

what i think of you

gratitude

thank you hopsin

i would like to have a few words with

you

yes sir

[Music]

all right now let's have at this problem

one at a time you ellery speak up well i

said no good jock henry he had the nerve

to assess my livestock at fifteen

thousand dollars that's the most

outrageous thing i've ever heard in my

life

i'm backing my assistant jack henry all

the way well if you feel that way about

it i'll take up my complaints with your

assistant personally

[Music]

[Applause]

brooders huh mrs hart best in virginia

city jock if i do say so they are they

are and um about how many eggs would you

say they're sitting on 97 exactly 90s

that's just the count i got

97 little chicks

chicks

they're only eggs

this is hard

they're little living animals they're

just as alive as the other 200 that are

already running around here

well whether you're right or wrong jock

forget it dave always does you see the

chicks are mine for a special fun uh i

don't want to hear that mrs heart i

don't want to hear that my boss is

cheating his taxpayers why you

insignificant miserable little war you

dare say worry about my dave and i'll

cut you to ribbons

[Music]

[Applause]

[Music]

there he is there's a little varmint get

him nancy but i will

there he is

[Music]

look at all those old bitties chasing

after jackie

that's my wife

[Music]

oh

[Music]

that husband of yours do you know what

he's done

my job

why he is the most harmless gentleman

and he is huh well who gets the egg

money in your house you or him

well we haven't any eggs mrs heart

we have no chickens

there's nothing running around our yard

won't be until our baby's born

what's this all about

that no good jock henry he's he's taxing

us to death that's what it's all about

you're doing sexy women for going huh

best favor i could do your sweet little

wives to put this noose right around

your neck oh

now i'm sorry ladies

i know my man is kind of new at his job

if he's offended you i know what i'm

doing

oh sure you do you're hiding right

behind your wife's skirts you little

worm

now

i thank you to leave my man alone do you

know he's taxing us for our unborn

chicks

they ain't unborn they're just unhatched

there's alive as you are well if they

settle this one at least we'll know

which came first the chicken or the egg

helen how can you stand by a man like

that

look at you look at the clothes he

dresses you in

has any you ladies

a prettier son bonnet than the one jock

gave me

and next year he promised me a new one

real silk too

bought with our taxes no doubt come on

girls let's do ellen a favor and lynch

him

i know you won't i'll scratch your eyes

out

oh now see what you all went and done

don't get all riled up inside look at

the baby think of the baby now you

better have sweet thoughts at a time

like this he's right

for once

and we're sorry ellen

we'll have doc snow come out and see you

i don't want doc snow i don't want

anyone

just you leave us alone

all right girls

come on

[Music]

it's all right mrs henry

you win

i'll pay his ding-blasted egg tax

[Applause]

foreign

[Applause]

[Music]

[Applause]

[Music]

well well pop

well

we're richer than i thought and and jack

didn't over taxes huh well i didn't say

that

well then he did

just about double

he taxes for the unborn calves the

unhatched chickens well uh i got us into

this i'll get us out of it no we'll work

it out together yeah with dave hartback

and jock up all the way i'll see what

chance you have well if anybody can talk

to jock i can um i don't think so

not when he's got the business teeth

the trouble with jack is he's one of the

sorry people

sorry people what do you mean paul

well he's

shiftless loves the life of idleness

you know women like ellen they

they they they feel sorry for them they

want to help them

and they they fall in love with them

and they marry them then they take on

all the burdens

are you sure right about ellen being in

love with him

main trouble with the sorry people

though is that uh somebody throws a

little

prosperity their way or a little

authority they're worse than ever they

become obnoxious

what are we gonna do

one thing you can't do you can't meet

the sorry people head-on if you do you

you're getting deeper than a steer in a

bog hole how do you handle them though

gotta outwit them

maybe uh connive a little

bit and i think that's the line we

should be [ __ ]

let me think boys

[Music]

wait a minute

good job honey you forgot your lunch

me need lunch out of a paper bag

ain't you forgetting my position just a

little

and look at this place

i'm gonna move us into a fancy boarding

house in town

and have our baby plane in the street

and

and what about sally i'll put her up in

the livery stable

and have her baby growing up in a stall

i only plan to hire her a full-time

exercise boy

but jack it would cost so much money

money is no object

and i a legally appointed full-time tax

collector

jack honey

could you walk to work

i'll need the buggy today

of course my dear

someday we're gonna have two buggies

i'll hire myself a hack in town

ugh

valley

something terrible has happened to papa

we've just got to do something about it

[Music]

[Applause]

[Music]

[Applause]

oh this is henry

this is a surprise

oh

sh should you be uh riding around with

well you know

i i just had to come mr cartwright it's

awful important

i got to talk to you oh

are you feeling all right

it's dark

something terrible has happened what why

isn't that an accident

no

it's much worse than that

he's changed

he's become a different kind of man

yeah i'm i'm fully aware of that

he used to be so sweet and kind

he was always around the house when i

needed him

now

i don't even know where he is half the

time

and not only that mr cartwright

a lot of people don't seem to like him

anymore

oh mrs henry uh

uh

let me get this straight now

are you suggesting that you'd be just as

happy if he didn't have this tax

collecting job

mr cartwright

do you think there's any way you could

talk him into giving it up

well i

i

sure like to help you along those lines

uh look why don't you uh

once you come in the house we'll uh have

a cup of tea and then we can talk about

it

i sure would love a cup of tea but uh

well i i don't think i ought to move

around too much

oh

oh by all means by all means well i'll

i'll get hopsin to get the tea ready

i'll bring it out in the jiffy

[Music]

[Applause]

joe

yeah

where's horse oh he's outside i'm

getting here no no

he might bark at this idea

you know you know the way he is wrapped

up in helping jock and all

yeah you're probably right now haas has

a lesson to learn too he's let his heart

run away with his head

now what's your plan

do you remember that sorry little fella

that took us in those match races over

at carson city do i she ran as fast as a

streak of lightning and then not much

larger than money and skinny it's where

she couldn't carry a man much less run

like the wind under him

[Music]

bar that's right and jock can't resist

the horse race that horse had made

gatling look like he was standing still

little joe you're pretty good at

conniving yourself

oh thank you bob

son

i want you to buy that philly

hmm

at the price that far asked what's the

difference money's gonna be taxed away

anyway

go get it yes sir

[Music]

paul i've known you to do a lot of

conniving in your life

but i never knew it to take you this

long to connive up something real good

tonight

well that's a fine thing to say to your

father son of a conniver

[Music]

joe

where'd you go last night

where did i go last night

dad don't answer me with a question

answer me with an answer

there's some mighty haywire around here

anybody home

why uh

look who's here

horse it's uh mrs henry why don't you go

out and see what you want son

why am i born

she's your friend and besides i haven't

finished my breakfast yet

all right

oh you know you were almost too anxious

hey do you think so yeah well anyway

she's more reliable than her husband

she's on time

i i'm sorry horace i don't mean to

bother you but

well sally's having terrible pains and

and jock's gone out on his tax

collecting and and i'm all alone and

and i just got to have help

poor

sure i'll help you man

you you just scoot over

thank you hoss

if i know the more i know you the more i

realize what a canary you are well never

mind what kind of conniver i am let's

get the town hillary's going to be

waiting i get the philly out of the barn

lily so don't let sally feel it catch

cold you keep covered with blanket got

plenty money lie on him today don't

i better get the horses i get my money

come on man you've been standing there

for 15 minutes make up your mind

i think i'm about ready to make that bet

now how much

well i'd say uh how about your thousand

dollars let's make it two thousand no uh

a thousand is good enough for me

all right then it's one thousand it's a

bet

until let's talk about the strategy of

this thing now excuse me

[Music]

uh

[Music]

so

[Music]

fine animal isn't he

beautiful

ben

she's what i call a sorry philly

not fast enough to race too small for a

full day's work and not strong enough to

pull with the team

what are you talking about i paid a lot

of money for that horse

[Music]

hey the fact is jack i uh

i bought it to race against gatling

oh that's the trouble with these sorry

philly someone's always taken them to

heart

sweating over them

loving them

going broke on them

a jock i paid 500 for that horse and i

intend to pay taxes on the full amount

well i wouldn't assess her at 50.

when i'm betting a thousand against

gatling 50 you're supposed to be a horse

expert

give me more money you want to bet

against gatlings cartwright now we're

not talking about money this is a this

is a grudge race

hop saying

that goes for you too

i uh i sure hate to see horse's paw make

a fool of himself but believe me mr

cartwright that philly of yours ain't

worth its weight in hay

and you're supposed to be an assessor

you better i am bet but what you don't

got a penny to bet i get a good salary

60 a month chicken feed plus twelve

months is seven hundred and twenty

dollars you call that chicken feed no i

call that a bet

oh

you're not backing down are ya

[Music]

no no wait a minute mr cartwright you're

you're a horse's paw i can't do this to

you

i don't mind doing it to horse's best

friend do i

[Music]

mr cartwright man gets too uppity he

needs taking down a peg

my sentiments exactly

for your own good i'll take that bet

good

now let's get down to the starting line

[Music]

ah miss henry

sally ain't likely to have that coat

today are you sure hoss

when i left she was standing in the

corner upon a big hole in the ground she

was

doubt burn it i sure would hate for

anything to happen sally without jock

being here

i think i'll better ride in town and get

him

horse now please wait you know you'll

never find a job ma'am everything's

going to be all right don't you worry

hostile he just keeps going from one

house to the next and from one barn to

the next everything's everything's gonna

be all right don't you worry

[Music]

ma'am you go get me some hot water in a

hurry hurry run

[Music]

[Applause]

[Music]

look joe if we're going to get ourselves

a new tax collector you've got to win

this race

yeah i'll just let him run himself out

the first two laps and take him on the

third you better take him on the third

yeah you're out 1720.

we're out seventeen hundred and twenty

dollars

you have half the bet

[Music]

we gotta win this one skinny

it's gonna be all right

oh you know what you're gonna be

you're gonna be a brand new mother the

cutest little coach you've ever seen

with a brown face and big brown eyes i

wish you think just like yours don't

look just like you

dad bernie where's that water

everything's gonna be all right sally

i'm gonna have to go to the house minute

and see if i can get some water

i'll be right back now

you stay right here here be still

lay right still i'll be right back

you just be nice and calm like me here

yeah

[Music]

i thought she's gonna bring that one i'm

having a heck of a race that monster

[Music]

ma'am

it's henry help me will you host awesome

i i put the water on horse but i think

you're going to be needing it for me oh

no

i'm afraid you can't stop it with words

yes am i i'll run into town and get dark

snow oh no no there isn't time

[Music]

ma'am don't you worry about nothing

everything's gonna be all right you here

you're gonna have a nice big old healthy

youngin

big blue eyes and a long bushy tail

ma'am i hear silent calling i gotta run

and you stay right where you are and

stay calm just like me here everything's

gonna be all right please hurry awesome

sure got a race on my hands now death

burn starts are ganging up on me

[Applause]

here i am back sally just like i told

you

[Music]

all right boys i'll take your bets right

up the last time

[Music]

you bet gatling ten to one

we keep money and family very good

[Applause]

[Music]

what you crying about

teddy guys gonna be back

well i'll be coming around the corner

any minute now at least gatlin will be

coming around the corner

it's not so good for this book all right

folks

all right folks you saw for yourself

gavin two lanes ahead answer now 20 to

one okay

how do you do what

i can say my money to one you take

gatling you take gatling we keep money

in family all right

all right

you want to add another half year salary

to that bet mr cartwright

jack why don't we make it another full

year that'll make it two years

it's a bet

everything's gonna be all right

you think you got problems if henry's

got a problem just as bad

she's real brave about it

[Music]

i gotta go back in the house sally i

i'll be right back

uh

you lay right here

look out for that hot water

you still i'll be right back i gotta go

in the house just a minute

hi you better come in here quick

[Music]

[Music]

come on you big spenders 21-1

21-1 i give you the same odds tony we're

smart you know fred we'll keep money and

family all the same 21 to one gatling

what you crying about them

i told you i was gonna be right back

dinner everything's gonna be all right

silence calling ma'am i i gotta go back

out the bar now don't you let nothing

happen until i get back to here

i'm afraid i don't have much to say

about it

yes

well i'll be right back you you stay

right here don't you go where you here

i'll be right back

[Music]

[Applause]

sally what you holding out on me for

if you're gonna do something do it if

you don't miss henry's gonna beat you to

it she's gonna be calling me in a minute

now come on

[Music]

come on here

[Applause]

i don't know what in the world happened

that's the worst race gathering ever run

one thousand dollars ellery

what did you say that mayor's name is

well her name is clementine but i think

from the look on your face we gotta call

her old sorry from now on

it ain't funny

don't feel so sad we keep all money in

family

hey joe have a wonderful race wonderful

thank

you said half the bet

hey thanks

[Applause]

[Applause]

[Music]

[Applause]

[Music]

sally don't you do nothing i get back

here don't you do nothing you just lay

there i'll be right back

stay calm

[Music]

huh

[Applause]

[Music]

[Applause]

[Music]

uh

[Music]

[Applause]

[Music]

[Applause]

[Music]

[Applause]

[Music]

[Applause]

um

[Applause]

[Music]

[Applause]

chuck where in tarnation have you been

don't tell me i know

you've been out collecting taxes while

i'm here delivering your twins

fine husband you are a fine father

you're gonna make

father

[Music]

you mean you

what

did you bring my twins into the world

going in the house and see for yourself

keep it quiet he may be asleep

[Music]

[Applause]

there's only one where to hide my other

baby where did you put it

where did you where did you put them

in the barn jock oh

the barn you can't put my other baby in

the barn

[Applause]

sally sally sally i i never knew it'd be

like this

oh you've got a fine little cult

he's gonna be our pride and joy

and you ought to see the boy

he he's so handsome i'm gonna call him

horse horse cartwright henry

oh jog nope no carry on

i think i'm gonna cry

i think you are too

[Music]

[Applause]

that's right mr carr right

we got us the problem haven't we yes we

have jack i still owe you a year's

salary no

two years salary two years salary yeah

yeah he uh lost it on a horse race oh it

was a fair bit house you see i i bet him

against his two-year salary you know

supposedly he was going to be working

now if he wasn't going to be working mr

car right

are you suggesting that i quit my job no

i'm not suggesting that at all i'm just

saying that i didn't actually bet your

money i bet against two years salary and

if you're not working well i uh

i sure wish i could go along with that

mr cartwright but dave hart he really

needs me down to tax collecting office

jack

i know dave needs you but ellen needs

you much more now i've been talking to

her she's so unhappy with you away in

that tax collecting job all the time and

now with sally and the colt and ellen

and the baby she needs you all the more

you really think so oh i know so i think

you're right and you know something else

when i first took that job dave told me

it was only temporary

temporary

paula conniving and the job was only

temporary

[Music]

thank you mr cartwright you're welcome

jack

[Applause]

[Music]

joe

take your hat off

[Applause]

that's for the baby

mr ellen family contribute for a little

coat good

you contribute mr horse

i think i don't contribute enough to

this outfit i think he has two

i take to missy allen clean up house

make big pot mulligan stew good good boy

hop sink

[Music]

[Applause]

[Music]

so

[Applause]

[Music]
Behind the Scenes of Tax Collector
Cosmo Sardo acted as a barber in this episode, which he later portrayed in the 1968 episode "The Price of Salt."
Towards the end of the episode, Hop Sing mentions making Mulligan Stew for the Cartwrights to celebrate the Henrys' new baby. Although the show occurred sometime in the 1870s or 1880s, Mulligan Stew first emerged in hobo camps in the early 1900s.
Looking for More Bonanza Episodes?
Bonanza is an excellent Western television program produced and broadcasted by NBC from September 1959 to January 1973. There were 14 seasons for viewers and fans to watch alone or with their loved ones. The Tax Collector is the 54th episode in a series of 430 and the 22nd for the show's second season.
You can find more about any of the 430 Bonanza episodes here>>