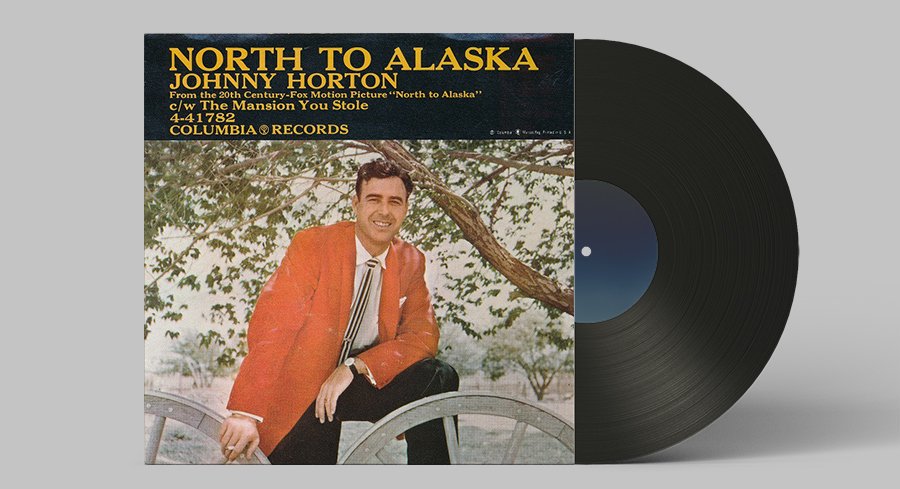 Western Song: North to Alaska
North to Alaska was a 1960 hit song that was featured in the film of the same name. American country music, honky-tonk, and rockabilly singer and musician Johnny Horton recorded the song. Although Horton sang many popular songs tied to the film, it was the first to be sung in the opening titles. Sadly, he died on 5th November 1960 in an automobile accident shortly after the song's release. Members of the Western Writers of America included the song in their list of the Top 100 Western Songs of all time.
About the Song
The lyrics of the song during the opening title of the film present a back story for the point the film began. It is about Sam McCord with George and Billy Pratt who left Seattle in 1892. They crossed the Yukon River and found the bonanza gold below the old white mountain a little southeast of Nome. In "1901" Sam was known as "a mighty man" as they find more gold. His partner George told him that he will exchange all the gold placed in the land for a small band of gold to be placed in the hand of sweet little Jenny. George feels that Jenny is his true love, and declares that he will build a honeymoon house for Jenny at the bottom of the same mountain where the gold was discovered. In the film, we also hear the instrumental part of the song being played on the piano. It's on the scene in the saloon when Sam and Angel arrive at Nome. American singer/songwriter in the Southern Gospel Music industry, Rusty Goodman, did the bass singing portion.
Popular Recordings
Aside from Johnny Horton, many other artists recorded the song including:
Rose Maddox
Frankie Laine
Kevin Shegog
Jerry Lee Lewis
Claude King
Hank Williams, Jr. with The Mike Curb Congregation
Cotton Mill Boys
Herman & Angie
The Johnny Blue Country Sound
David Mallett
Rankarna & Mats Rådberg ‎
Singing Kettles
Kentucky
Ted Hawkins
Craig Giles
Declan Nerney
Hasse Andersson
Connie & Babe and The Backwoods Boys
La Cry
Dwight Yoakam
Rita MacNeil
Jack Cooke
Foster & Allen
North to Alaska Chart Performance
The song has been included in the top hits of the following charts:
Australia Singles Chart – No.2
Canada (CHUM) – No.1
New Zealand (Lever Hit Parade) – No.6
Norway (VG-lista) – No.8
UK Singles (OCC) – No.23
US Billboard Hot 100 – No.4
US Hot Country Songs (Billboard) – No.1
US Hot R&B/Hip-Hop Songs (Billboard) – No.10
West Germany – No.41
Listen (Johnny Horton Version)
North to Alaska Lyrics
Way up north (north to Alaska)
Way up north (north to Alaska)

North to Alaska
You go north, the rush is on
North to Alaska
I go North, the rush is on

Big Sam left Seattle in the year of ninety-two
With George Pratt, his partner and brother, Billy, too
They crossed the Yukon River
And found the Bonanza Gold
Below that old white mountain
Just a little south-east of Nome

Sam crossed the majestic mountains (mush)
To the valleys far below (mush)
He talked to his team of huskies (mush)
As he mushed on through the snow (mush)
With the northern lights a-runnin' wild (mush)
In the land of the midnight sun (mush)
Yes, Sam McCord was a mighty man (mush)
In the year of nineteen-one (mush)

Where the river is windin'
Big nuggets they're findin'
North to Alaska
They go North, the rush is on

A-way up north (north to Alaska)
Way up north (north to Alaska)
North to Alaska
They go north, the rush is on
North to Alaska
They go north the rush is on

George turned to Sam
Wth his gold in his hand
Said, 'Sam you're a-lookin' at a lonely, lonely man
'I'd trade all the gold that's buried in this land
For one small band of gold to place
On sweet little Jenny's hand

'Cause a man needs a woman
To love him all the time
'Remember, Sam, a true love is so hard to find
I'd build for my Ginnie, a honeymoon home
Below that old white mountain
Just a little south-east of Nome'

Where the river is windin'
Big nuggets they're findin'
North to Alaska
They go north, the rush is on
North to Alaska
They go North, the rush is on

Way up north (north to Alaska)
Way up north (north to Alaska)

Way up north (north to Alaska)
Way up north (north to Alaska)
Way up north