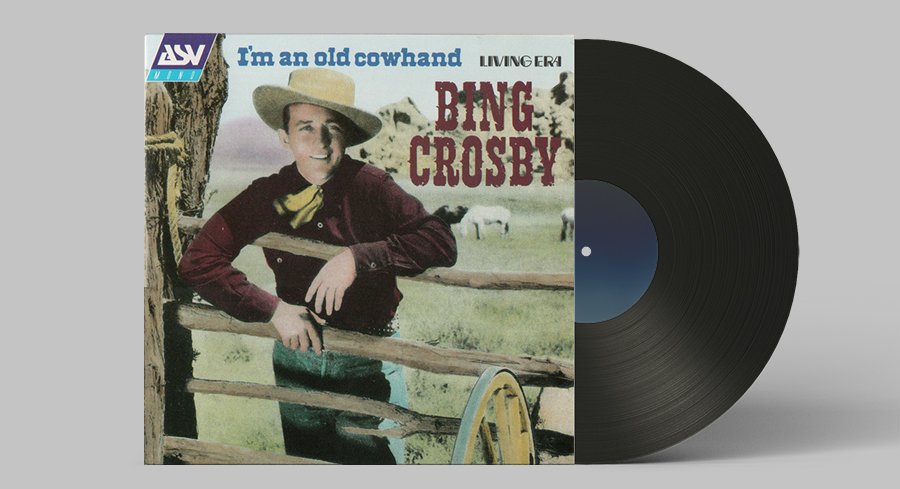 Western Song: I'm an Old Cowhand from the Rio Grande
I'm an Old Cowhand From the Rio Grande is a comic song written by the American lyricist, songwriter, and singer Johnny Mercer for the American Western musical film Rhythm on the Range released by Paramount Pictures. The star of the film, Bing Crosby, sang the song. On July 17, 1936, the commercial recording of Crosby for the song was made with Jimmy Dorsey & His Orchestra for Decca Records. It became a huge hit in 1936 that reached the number two spot on the charts of the day, and it greatly advanced Mercer's career. Crosby re-recorded the song in 1954 for his album Bing: A Musical Autobiography. The song ranked # 48 in the list of Top 100 Western songs of all time, chosen by the Western Writers of America.
Background of the Song
Mercer and his wife were driving across the USA to Savannah after apparently failing to succeed in Hollywood. Mercer was delighted to see the cowboys with spurs and ten-gallon hats, driving cars and trucks instead of riding horses. Singing cowboys were famous in movies and on the radio back then, and within 15 minutes, writing on the back of an envelope, Mercer transferred the image he saw to a song whose satirical lyrics released some of his bitter disappointment in Hollywood. The lyrics, about a cowboy in the 20th century who has a little resemblance with cowpunchers of old, are included in several anthologies of lightweight paragraphs.
Popular Recordings
Aside from Bing Crosby, the song has been sung and recorded by many other artists including:
Roy Rogers (Sons of the Pioneers)
Sophia Johnson
Carson Robison
Bobby Darin
Tex Ritter
The Mills Brothers
Johnnie Ray
Jack Teagarden
Patsy Montana
Frank Sinatra
Steve Lawrence
Dan Hicks
Harry Connick Jr.
Sonny Rollins
Ray Conniff
Herb Alpert and the Tijuana Brass
UK jazz artist Acker Bilk
Film and Other Appearances of I'm an Old Cowhand from the Rio Grande
The song has been featured or used in some films and television shows including:
Rhythm on the Range
Me Feelins is Hurt
King of the Cowboys
Paramount Noveltoon
I Love Lucy
Innerspace
Men in Black 3
Listen (Bing Crosby Version)
I'm an Old Cowhand from the Rio Grande Lyrics
I'm an old cowhand from the Rio Grande
But my legs ain't bowed and my cheeks ain't tan
I'm a cowboy who never saw a cow
Never roped a steer 'cause I don't know how
Sure ain't a fixing to start in now
Oh, yippie yi yo kayah, yippie yi yo kayah

I'm an old cowhand and I come down from the Rio Grande
And I learned to ride, ride, ride 'fore I learned to stand
I'm a riding fool who is up to date
I know every trail in the Lone Star State
'Cause I ride the range in a Ford V 8
Oh, yippie yi yo kayah, yippie yi yo kayah

Yippie yi yo kayah, yippie yi yo kayah

We're old cowhands from the Rio Grande
And we come to town just to hear the band
We know all the songs that the cowboys know
'Bout the big corral where the doggies go
We learned them all on the radio
Yippie yi yo kayah, yippie yi yo kayah

I'm an old cowhand
(Oh yes, Mr. Bing)
(Too hot for you, Uncle Fudd)
Down from the Rio Grande
Oh where the west is wild all around the borderland
Where the buffalo roam around the zoo
And the Injuns run up a rug or two
And the old Bar X is just a barbecue, yeah
Yippie yi yo kayah, yippie yi yo kayah

I'm a pioneer who began from scratch
I don't bat an eye in a shootin' match
They don't call me Elmer, they call me Satch
Yippie yi yo kayah, yippie yi yo kayah

Get along little horsy
Get along little horsy
Yippie yi yo kayah, oh